LETTER FROM THE PRESIDENT:
Dear Member,
With Spring in full bloom, it's time to once again exchange all those winter layers for the lighter fabrics of the season. With days now getting longer, and temperatures warmer, I encourage you to take a few moments to get outside for some fresh air, maybe talk a walk, or simply step out for a bit of time outdoors —socially distanced, of course. It's a wonderful way to clear your mind and enhance mental wellness.
As you continue toward completing your Spring semester, I want to take a moment to commend you for staying focused on your leadership journey. The past year was challenging; however, your commitment to personal growth and development is a testament to the power of tenacity and perseverance.
So keep up the excellent work, and let your natural curiosity inspire you never to stop learning. Remember, great leaders don't claim to have all the answers or know everything. Exemplary leadership means understanding there is always something new to learn, more ideas to exchange, and fresh perspectives to consider.


Wishing you a happy Spring!

Charles Knippen
President
The National Society of Leadership and Success
---
BIG NEWS:
Former President Bush TO join our Speaker Broadcast Series
For the first time in our Speaker Broadcast history, we are excited to welcome a former United States President. April 27th, join us for an in-depth conversation with former President George Walker Bush, sharing his leadership and success insight.

George W. Bush served as the 43rd President of the United States from 2001 to 2009. Before taking office in the White House, he was the 46th governor of Texas from 1995 to 2000.

We are honored to have Former President Bush join our Speaker Broadcast Series.
Add event to your calendar
---
FEATURED PODCAST:
WHY BEING A KNOW-IT-ALL CAN HURT YOUR CAREER
Our celebration of Women's History Month continues as we welcome back CeCe Morken - CEO of Headspace, one of today's most successful digital wellness apps.

Subscribe to Motivational Mondays on any of your favorite podcast platforms!

---
SUCCESS STORIES AND SPOTLIGHT:
NSLS Member Shacorria Green Receives 'Emerging Student Leader Scholarship
The Emerging Student Leader Scholarship honors a ULM student who contributes to the empowerment, motivation, and encouragement of peers and fosters positive change. This $1500 award's recipient shows exemplary leadership qualities through student organizations, academic excellence, and community service...READ MORE >>
Food distribution event delivers healthy box lunch meals at SWVCTC
A food distribution initiative took place at 11 a.m. on Friday, March 26th, in a partnership with Southern West Virginia Community and Technical College. The college's student chapter of the National Society of Leadership and Success and staff volunteers helped distribute 1200 food boxes containing fresh produce, meat, and dairy products...READ MORE >>
NSLS MEMBER Lynwood McDaniel named to the inaugural SC State University's 40 under 40
NSLS member Lynwood McDaniel, Jr. of Dillon, South Carolina, was recently named to the inaugural SC State University's 40 under 40 list. The prestigious list recognizes exemplary alumni who have made significant accomplishments in their careers and positively impacted their communities...READ MORE >>
NSLS MEMBER TALKS ABOUT EQUAL OPPORTUNITIES FOR ALL
NSLS Member Denias Smith has set his sights on excellence! He wants to become a surgeon, own his own business, and eventually become the first black governor of Tennessee. He recently shared with the Tennessee Tribune his outlook for a more inclusive America with equal opportunities for all...READ MORE >>
APRIL winners of the $50 Communication Styles Video Contest. Congratulations!
Stephanie Marroquin - Kansas City Kansas Community College Online

Mersi Thomas - Loyola University - New Orleans

Chico Ryder - Colorado State University-Pueblo
Congratulations to our winners and thank you to everyone who submitted entries.
PARTNER SPOTLIGHT: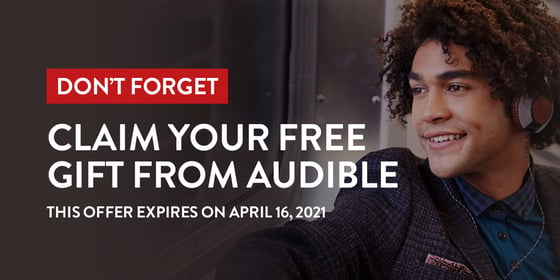 Don't miss out on our exclusive partnership offer from Audible, expiring in two weeks, on April 16th, 2021.
Visit audible.com/NSLS today to ensure you receive your free gifts.


JUST IN TIME FOR GRADUATION:
The NSLS Graduation Set is the perfect complement to your wardrobe come graduation day! Our honor stole is made of platinum silk and proudly features in black the NSLS greek letters. Our NSLS cords come in matching black and platinum, featuring thick tassels at the bottom. And our silver metal Sigma Alpha Pi tassel charm brings the whole look together.