LETTER FROM THE PRESIDENT:
Dear Member,
As March begins and we look toward welcoming the Spring, I hope your school year thus far has been rewarding. Keep in mind however, a successful semester is not just limited to lessons learned academically but also through the personal growth you've gained by enduring through times of uncertainty.

The NSLS understands that adjusting to isolated, virtual learning amid a global pandemic has been challenging. However, rest assured, you remain our priority, and we will continue to support the NSLS community by providing engaging programs with as much peer interaction as possible.

Remember, Springtime is a season of blooming in which the thawing of winter reveals newness that has developed in its wake. It is the perfect metaphor for embracing change and emerging as a stronger leader through adversity.

Hopefully, soon – post-pandemic, we'll return to "normal life," spending quality time, in-person with our family and friends. Until then, I encourage you to stay vigilant in taking care of yourself and adhering to health officials' pandemic safety recommendations.

Happy Spring!

Charles Knippen
President
The National Society of Leadership and Success
---
BIG NEWS:
Countdown To Our Conversation With Bill Gates!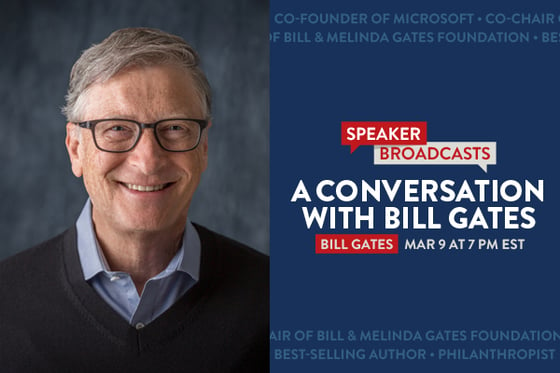 On March 9, the NSLS welcomes global philanthropist Bill Gates as the next guest in our 2021 Speaker Broadcast season. Bill is a co-founder of Microsoft Corporation, an investor, and a best-selling author. Members will have the opportunity to hear his inspirational story in his own words and gain insight into his significant success in leadership.
Add event to your calendar

Celebrating The "United By Purpose" Scholarship Winners
One of the main goals of the NSLS is to build strong and compassionate leaders who will impact the world positively. Our "United By Purpose" scholarship challenge welcomed an impressive range of community-focused project submissions. All the ideas were terrific.

We proudly present three of the standout submissions below named as finalists and recipients of the "United By Purpose" Scholarship award.
Congratulations to our winners and thank you to everyone who submitted entries.

MARCH winners of the $50 Communication Styles Video Contest. Congratulations!
Heather Hunter, Southern New Hampshire University

Raven Woods, East Tennessee State University

Hailey Kalsky, Appalachian State University
Don't Miss The Scholarship Deadline: March 26!
There are just a few weeks remaining to apply for Spring 2021 Scholarships and Awards! The submission period ends on March 26 at 11:59 p.m. Eastern Time.
Click here to download the Scholarships & Awards packet and begin your application.
---
SUCCESS STORIES AND SPOTLIGHT:
Duquesne University Sophomore inducted to The National Society of Leadership and Success and Sophomore Scholars Recognition
Congratulations to Olivia Kaminski of Wexford, who was inducted into The National Society of Leadership and Success. The impressive Sophomore also made the Dean's List at Duquesne University, studying at the John G. Rangos Sr. School of Health and Sciences...READ MORE >>
NSLS MEMBER's class project grew into a source of support for active service members
University of Phoenix student and NSLS member Raven Hilden earned a $5,000 scholarship for her passionate volunteer work of supporting military families. Herself an army wife, Hilden created a non-profit in 2016 that ships care packages to military troops worldwide...READ MORE >
NSLS member at Northwood University Receives The AFIP scholarship
Chelsea Mallams, an NSLS member at the Northwood University chapter, recently received the AFIP scholarship. This accolade is one of her many achievements in recent years, as she was also named the NIADA / Cox Automotive Northwood University Annual Scholarship winner in 2018. Mallams is dedicated to making a positive impact in the lives of others as a United Way student volunteer and a TLC tutor... READ MORE >>
Geoscience Senior and NSLS Member Involved in Environmental Research
NSLS member Brooke Peritore — a URECA Undergraduate Researcher of the Month for March 2021 — has been recognized for her research in the Department of Geosciences under Associate Professor Troy Rasbury's mentorship.
Peritore is pursuing dual majors in geology and earth and space sciences. She transferred from Suffolk County Community College to Stony Brook in Fall 2019 after participating in the GeoPATH-IMPACT program...READ MORE >>
PARTNER SPOTLIGHT:
Travel with True Nature: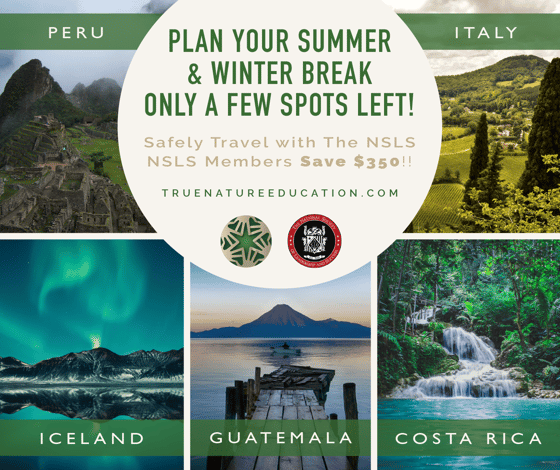 Save money with Earnest: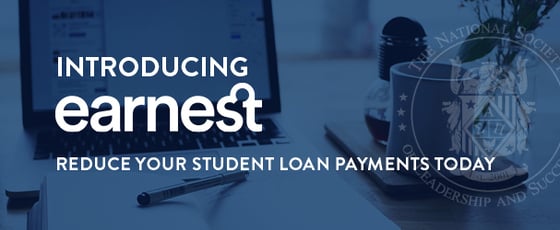 Are you looking to reduce your student loan payments? Due to federal rate cuts, now is one of the best times in recent history to refinance your loan, and our partner Earnest is here to help.