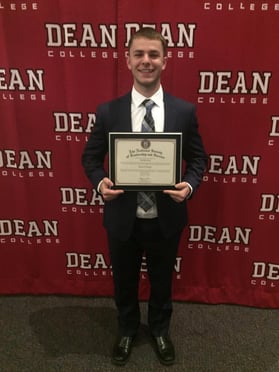 Hi! My name is Derek Izzo and I attend Dean College where I was inducted into the National Society of Leadership and Success. I am currently enrolled full-time pursuing a bachelor's degree in business management. Once I began attending leadership training and speaker broadcasts, I started to work towards goals beyond academics. Setting goals each meeting allowed me to organize my priorities and strengthen my weaknesses.

As it is today, I am a first-year member looking back on my journey to induction and couldn't be more pleased with the process I underwent. After accepting the invitation, I knew the practices associated with the National Society of Leadership and Success would assist me personally and professionally. Working early mornings, attending all my classes and team practices became seamless once I realized the professionalism of the National Society of Leadership and Success. Understanding I would represent something larger than myself molded my character into a more valuable team member.

Learning how to assist others in multiple environments and how to act as a role model are some of the most valuable skills I got to learn and practice through leadership training. The spring of 2019 brought the opportunity I needed to test my potential, which was becoming a coach for my high school's baseball team. Coaching was the perfect environment for me to apply the skills I learned in leadership seminars and speaker broadcasts. Influencing and teaching young athletes to strive to be the best versions of themselves was some of the work I have the most pride in.

In 2016, I began my higher education to a rough start at the University of Rhode Island. After transferring to Dean College and taking my first steps to induction, achieving my goal of making President's List was a valuable accolade that I can say was a product of the leadership training process. The training the National Society of Leadership and Success offers tested my limits and continues to teach me ways to positively influence the lives of others.