Technical skills teach students how to perform a job. Soft skills teach them how to have a career. As technology advances and workplaces evolve, it's becoming more critical than ever for administrators to set their students up for long-term success.
Don't just give your students tools, give them lifelong skills
We sat down with Dr. Tim Holt, FRAeS, C.M. from Embry-Riddle Aeronautical University's College of Aviation to understand why technically gifted students struggle with soft skills and what techniques educators can use to increase their students' communication, conflict resolution, and interpersonal skills.
In this webinar, you'll learn:
Why soft skills are vital now more than ever
How to effectively communicate with your students
How remote learning has impacted the soft-skills gap
Why leadership is at the forefront of soft-skill development
Leadership development is a sure-fire way to increase a vast number of soft skills. Learn how the NSLS provides transformative leadership programming to over 700 campuses across the US and how easy it is to bring a chapter to your school.
Guest Speaker: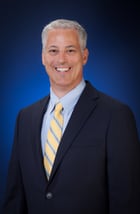 Tim Holt, Ph.D., FRAeS, C.M.
Dean and Professor, Embry-Riddle Aeronautical University's College of Aviation, Prescott Campus
Dr. Holt is the Dean of the College of Aviation, and a Professor with Embry-Riddle Aeronautical University. He's responsible for faculty, curriculum, course updates, course alignment, and more. He currently teaches undergraduate courses in aeronautics, safety, unmanned systems, and airport management for the BS in Aeronautics program. Previously, as the Director of High School Initiatives, he was responsible for the creation and administration of a National Dual Enrollment program. Before his current role, he served a 22-year career in the US Navy, retiring as a Chief Petty Officer.