LETTER FROM THE PRESIDENT
Dear Member,
Allow me to introduce myself. My name is Neil Khaund and I'm the new President and Chief Executive Officer of the NSLS. I want to take a moment and share how humbled and honored I am to be leading and serving this impactful organization.
It's an honor to build upon the transformative vision of NSLS founder Gary Tuerack. Since our inception, we have created opportunities for students from all walks of life to build networks and learn the skills needed to make the world a better place. NSLS's unwavering commitment to helping students grow through personal development and engaging academic programs has allowed our society to grow into the nation's largest accredited leadership honor society.
As I take on the role as NSLS President & CEO, please be assured that you and the entire member community remain our number one priority as our team is hard at work innovating and developing new tools and resources to help students build the vital skills to compete in today's competitive global economy.
We are excited to kick off the new year with Leadership Month. All throughout January, we will bring you a great lineup of contests, speakers, events, and we will feature many of our members in the popular NSLS Members in the News. You'll find all the details in this newsletter.
I'm thrilled to join the NSLS and I'm looking forward to helping you develop the leadership skills to turn your ambitions into action. Remember, each of you represents tomorrow's leaders and we couldn't be more excited to support you on this journey.
Wishing you a healthy and happy 2022!

Neil Khaund
President & CEO
The National Society of Leadership and Success
---
BIG NEWS
Spring 2022 Speaker Broadcast Lineup Announced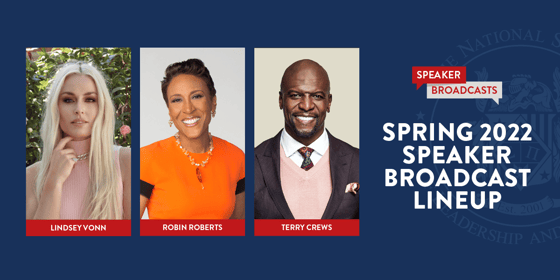 In case you missed it, our new guests for Spring 2022 include Olympic gold medalist Lindsey Vonn, actor and former NFL player Terry Crews, and New York Times best-selling author and Good Morning America anchor Robin Roberts.
To learn more about these exciting guests and when to mark your calendars to hear them speak with the NSLS, continue reading here.
Celebrating Leadership Month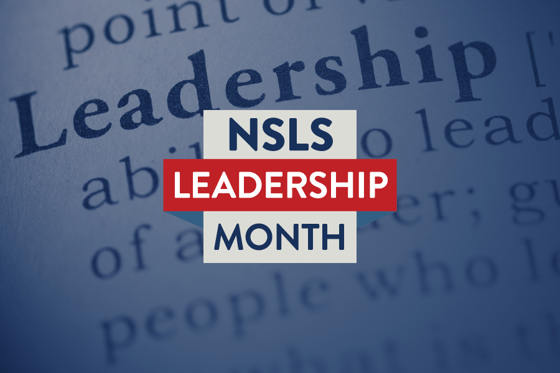 We're kicking off the new year with a celebration of leadership. Uplifting people, enacting political change, and building successful businesses are just a few qualities of great leadership.
Keep an eye out for tips, fun facts, and prize giveaways throughout January as part of Leadership Month, and be sure to follow us on social if you don't already!
Congratulations to all the JANUARY Reflection Challenge Video $100 Winners
April Robarge - University of Phoenix

Tamara Dorce - Capella University

Christina Lee-Grace Modeen - Northern Essex Community College
---
subscribe to MOTIVATIONAL MONDAYS
Hear tips from today's top leaders and get inspired to propel your own success.

---
FEATURED POSTS
| | |
| --- | --- |
| What Is Servant Leadership and How to Apply It | How to Use Transformational Leadership to Inspire Your Team |
| Achieve Success Through Identity Leadership | Members in the News: Year in Review 2021 |
---
What's HAPPENING In THE NSLS Shop?
Get Your Graduation Regalia

Order your graduation items today!
---
PARTNER SPOTLIGHT