Just as individuals grow as leaders with training and practice, so too do chapters of the NSLS. And just like people, chapters can experience periods of growth, change, and development. The Anna Maria College (AMC) NSLS chapter was formed in 2018, and since that time, has seen significant growth, with more than 200 people attending their most recent induction ceremony.
Their strong commitment to growth, community impact, and innovative leadership is garnering some attention, and it's one of the things Chapter President John Kelly appreciates most about his team.
"When COVID hit, our chapter experienced extremely low induction numbers. I am proud to say since I have entered my presidency here with my chapter, we have hit our highest level of participation, and that's true for chapter leaders, inductees, awards participation on campus, and fundraising opportunities. We have become a stand-out organization on our campus, and the best in leadership development for our school."
AMC chapter members are committed to continuing their chapter's impressive growth track, Kelly says. "We continue to help make the NSLS the most active and helpful group on our campus. With our highest induction rate to date, we're looking forward to providing opportunities for scholarships, volunteer and service experience, and leadership and community opportunities for students to build on their leadership skills."
RELATED: INNOVATION BREEDS SUCCESS
The Importance of Collaborating With Others
Helping the AMC chapter expand and become a more indispensable part of campus life meant helping the community as well. Kelly notes that the chapter took a growth-oriented approach to its involvement with local support and service. One key aspect underpinning the chapter's success was its willingness to collaborate with other groups to create positive change.
"Our chapter has teamed up with several clubs and organizations, both on our college campus as well as in the surrounding community, to provide a volunteer base group that looks forward to serving the community center in desperate need. We went from making hats and goodie bags for the homeless to doing community service clean-up projects. We're also providing leadership opportunities for the current and future members of the NSLS, as well as our college."
How the NSLS Helps Build Tomorrow's Leaders
Kelly credits the NSLS and the training opportunities it offers with helping to instill the skills his chapter members needed to achieve their goals and become effective leaders.
"Many of our members who enter the program and attend our events come forward and say that the programs and opportunities that we provide for them have given them either additional learning opportunities or have made them confident enough to prepare themselves for further opportunities and challenges in college and beyond."
That sense of growth is one of the many reasons why the NSLS seeks to broaden the training and other resources it can provide to its members. Kelly also agrees that the AMC members of the NSLS who want to become good leaders get a lot out of those benefits.
"The biggest benefit that we find our members using are the discounted opportunities from our various partners that we work with, as well as the NSLS Speaker Broadcast series that members watch."
How Leadership Helps Transform
Another aspect of the NSLS experience is the discovery of just what leadership means, and how each person's conceptualization of leadership can vary, even significantly, from other people's. Kelly says that his own experience has not only improved his skills as a leader, but has also helped improve his life overall and maintain a better perspective.
"Since becoming president of my chapter, I have learned that leadership has way more qualities than I originally thought. I have learned to listen to my community and build better decision-making skills. I've also learned that personally I can devote myself in ways I never thought possible. From a professional standpoint, my resume has been heavily enhanced. I have made numerous connections across the US that allow me to gain more insight into what I want to do after college."
WATCH: JOHN KELLY ON WHY HE LOVES LEADING AN NSLS CHAPTER
INSPIRING OTHERS TO STEP UP
Passing on the passion for excellent leadership and the drive to achieve difficult goals is a crucial part of the NSLS experience for student chapter leaders.
"Leadership is complex and getting students to become involved challenges them to open their eyes to understand what leadership can really mean to them. It's important to focus on this process, letting students know that they'll have to take the first step of becoming a leader. We will support them no matter what they do, but they have to take the first step and get involved."
Kelly understands that as a leader for his chapter, he needs to practice both active listening and taking the initiative to build better relationships. His experiences as a chapter leader with the NSLS have given him a deeper understanding of what leadership means to him.
"Leadership to me means that I can take a step back and listen to my community and then be the one to come forward and develop the community that I belong to and work with. Being able to listen to the people that you work with and being able to make a long-lasting positive impact is what leadership means to me."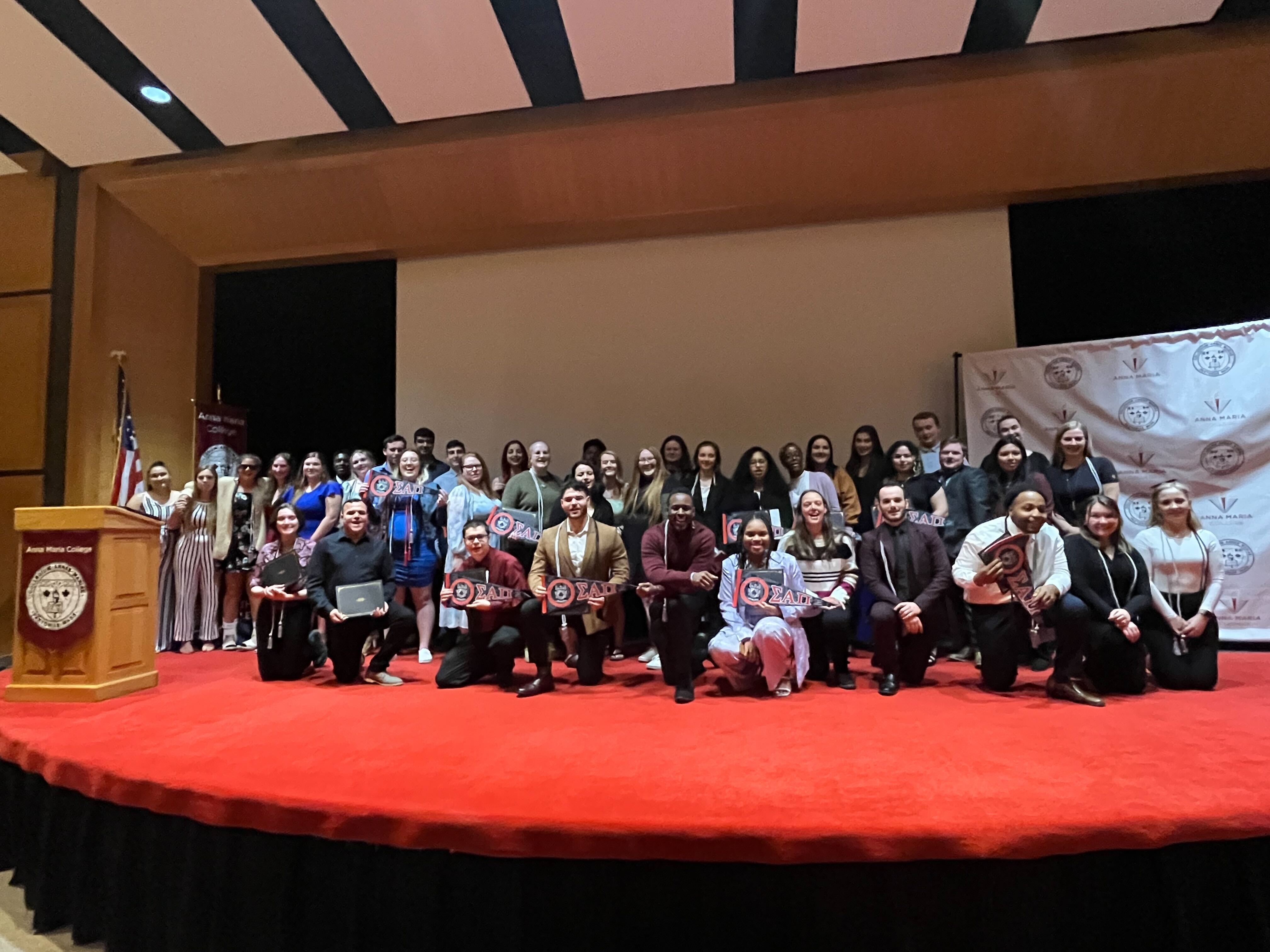 What's Next for the Anna Maria College Chapter
Their shared experiences during the rebuilding process have helped shape their goals for the future. And their future is bright. Kelly plans on continued growth while continuing to make a positive impact on the community.
"During the 2022-2023 academic year, we focused on rebuilding and restructuring our chapter, focusing on its comeback from the COVID-19 pandemic. During this academic year, we have built our chapter through many different aspects, such as leadership involvement opportunities on campus as well as leadership building opportunities and social events. For the 2023-2024 academic year, we look forward to promoting the NSLS much more heavily, as well as continuing to focus on possibilities of new leadership development and service opportunities that we can provide for our students."
For many students, the pandemic interrupted educational plans, forcing them to think of innovative ways to continue to grow. Here's the story of another NSLS chapter that reinvented itself into a service powerhouse.