Michele Harman has achieved quite a bit in a short amount of time. She graduated from Ivy Tech Community College - South Bend/Elkhart (ITCC) in May 2022, where she was active as an NSLS member and Chapter President. She recently began serving as Chapter Advisor.
Harman's involvement with the NSLS has transformed her own life, as well as the lives of others who benefit from her service project. That project has taken on a life of its own, thanks to Harman's leadership and hard work.
"I started a book drive project at ITCC and it grew into my Better World Project. I want to build on fulfilling the needs of IvyCares, which provides resources and wraparound services to ITCC students who need help with transportation, food insecurity, mental health, and emergency funds."
The Better World Project is the capstone to our Advanced and Executive leadership development programs. It provides members with the opportunity to apply what they've learned in real-world situations to create positive change.
"I want to create opportunities for students to have access to basic needs throughout the year that aren't provided by the food bank or another organization."
A Self-Sustaining Service Program
To achieve her vision, Harman carefully observed her community by identifying needs and gaps in services. She intentionally kept the program flexible so that it could grow and expand.
"In the beginning, we collected books for Christmas and gave them out to those who needed them. After the second year, we were able to expand the program and give books to anyone who had a child. I was able to use this model to help build the relationship with IvyCares and find out what needs were not being met on our campus. I shared this information with the board as an opportunity for other chapter members to be able to help, even if they had limited time."
The way Harman's efforts expanded can serve as a model for other chapters who want to build on already-successful service initiatives to create self-sustaining programs.
Harman says the key is to always keep the needs of the community top of mind. This is how you can build a tradition of service at any campus or organization.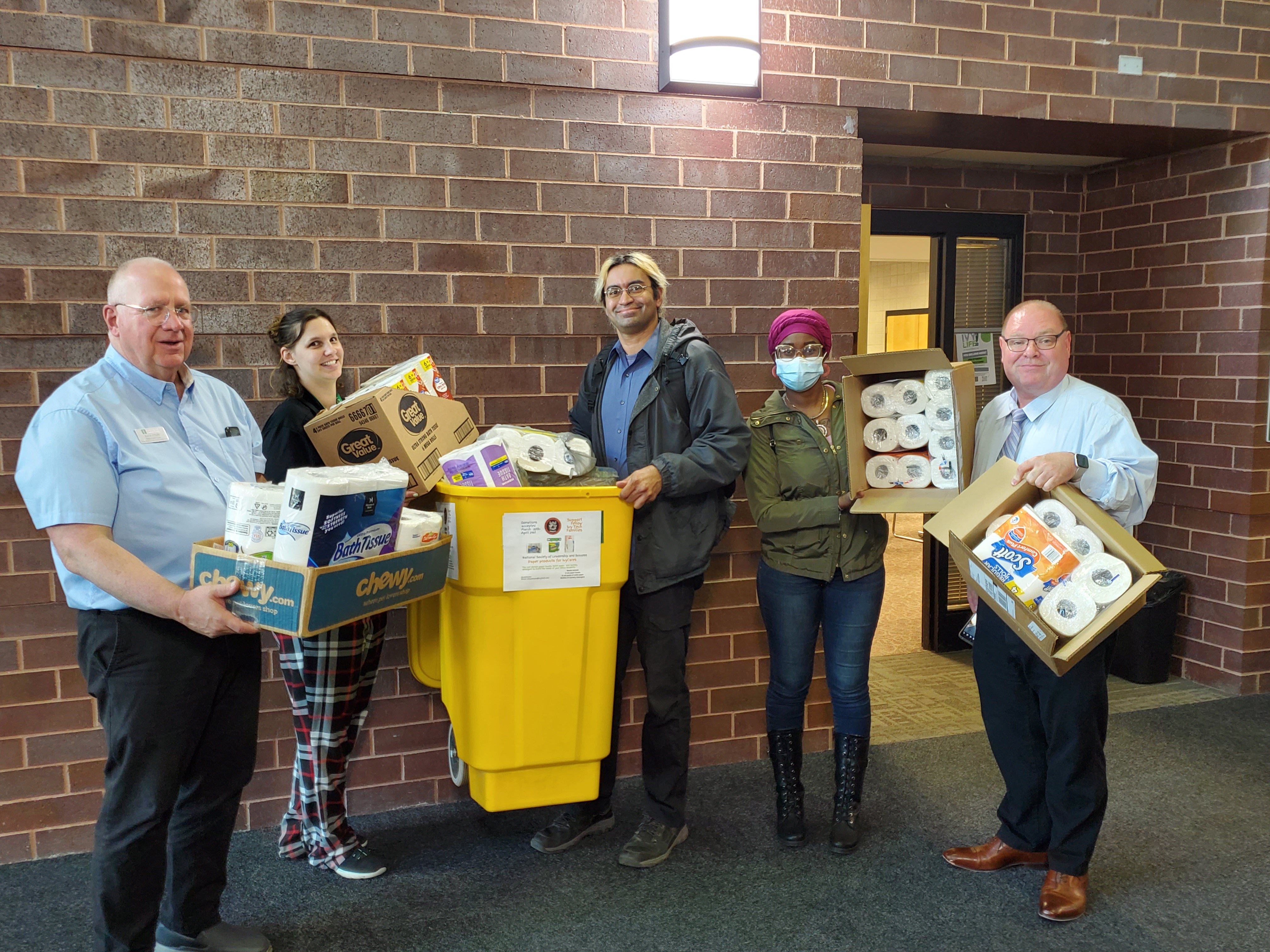 "Currently, there are collection boxes at student entrances where donors can drop off paper goods and detergent for the students. Then, we'll give those items to IvyCares to distribute to students in need. The hope is to make this self-sustaining so students can run the book drive in the fall and the paper drive in the spring."
Collaboration, Teamwork, and Communication
Creating and launching a successful service initiative like Harman's Better World Project draws on a wide range of leadership skills, including communication and motivation.
Harman particularly relied on the skills that support teamwork, especially when it came to coordinating between groups of people with differing needs, priorities, and goals.
"The skills that I needed to achieve this goal included networking, research, flexibility, patience, and collaborating with others."
She believes that the NSLS was instrumental in helping her achieve her project's continued success. Her NSLS membership gave her access to professional leadership training programs, services, and opportunities to put what she learned into practice.
"The NSLS has transformed my mindset and given me new skills that I'm using every day. When I first joined, I had a hard time talking to people. I'm still shy but now, I can stand in front of the room and give a speech. I grew from a member to a public relations officer, and then Chapter President to Chapter Advisor. I went from very low involvement to now working on my Better World Project. The NSLS makes you look at the world and yourself in a different light."
RELATED: BOOST YOUR COMMUNICATION SKILLS
How a Role Model Helped Expand Her Perspective
When you're tackling a project that's new and gets you out of your comfort zone, it's always helpful to draw on lessons from those who've already done what you're trying to accomplish.
In pursuit of her goal to create a lasting service program, Harman relied heavily on a network of inspiring mentors and leaders in her community.
"One leader I look up to is Sandra Senatore-Roberts, who's the director of disability support services and works with the IvyCares program. She works hard to ensure that students don't fall through the cracks."
That mindset proved contagious, as Harman works to transform her project into a permanent initiative. She'd like to use her program as the first phase of a much larger mission.
"My next goal is to make my Better World Project as self-sustaining as possible. I want students to be able to access the things that they need. I want to help relieve that burden while allowing them to know they can ask for help without the barrier of feeling like they're different from others. That stigma can ultimately cause them to drop out of school."
She also envisions her project growing and providing more substantial assistance, and is working on solidifying those extra needs.
"I'm currently looking at grants and funding so we can expand beyond just paper products and include things like hygiene products. It's easy to forget how important these items are until you need them. My goal is to help give students a chance to do community service, but also to give back to our fellow students who need it."
Harman's Advice for Future Leaders
We all have different perspectives on what makes a good leader and on what leadership really is. For Harman, it's about the moment when everyone rolls up their sleeves and gets to work, with or without recognition.
"Leadership is creating a better world that benefits everyone. It's not always about who's in the front of the room, but the person behind the scenes working hard to create long lasting and self-sustaining change."
For other young leaders who want to make a difference in their communities by being of service to others, Harman has some valuable advice. First and foremost, she says, it's important to learn from the things that don't always go to plan.
"'Turn failures into invaluable lessons.' I'm sure there's more to this saying but to me, it means to get away from the mindset of 'I failed' and turn it into 'what can I do differently?' or 'what did I learn?' This changed how I look at my progress and how I succeed."
In addition, she believes that it's crucial to work well with others, learn from them, and be willing to speak up and ask for help when needed.
"If you want to become a better leader, keep learning and be open to what others tell you. Sometimes you have to make sacrifices or collaborate with others in order to end up with the best outcome for everyone. Being a leader doesn't mean always having control. It means knowing when to reach out for help."
The NSLS chapter at Rio Salado College provides yet another example of how commitment to service can alleviate pervasive problems such as homelessness and hunger.